We want to open the farm gates, open the books, and open our hearts to the community and let the world see the true work, rewards, and costs of farming.
Farming Democracy tells the story of family farms doing things differently, working for a 'new normal' in agriculture that is fair to soil, water, animals, and people. These farmers are building regenerative, agroecological systems that are viable in an epoch that has seen a sharp decline in the number of farms globally.
To paraphrase a famous philosopher, those who control the means of production control the world. For too long that control has been in the hands of corporate, industrialised agriculture serving the interests and maintaining the wealth of distant shareholders at the expense of the planet and its inhabitants. But things are changing, and the number of regenerative farmers is growing, slowly wresting control back into the hands of the people to the benefit of local communities, ecosystems, and animals everywhere.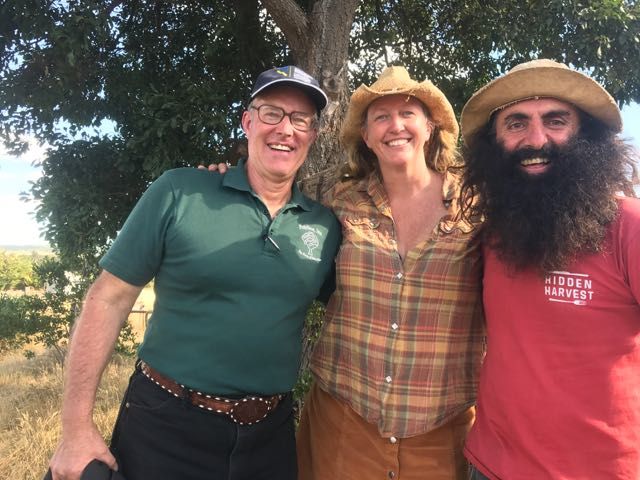 "Few vocations are as foundational to civilization as farming.  Few vocations can destroy civilization as fast as farming.  That's not a conundrum; it's a real assessment of trajectory.  With the industrialization and centralization of farming, most people have adopted an "out of sight, out of mind" relationship with this foundational vocation.  Before the wrong trajectory extends too far, we all need to immerse ourselves in the stories of those who dare to challenge the orthodoxy; who dare to follow a different trajectory that benefits the soil, the people, and the planet.
This collection of transparent, personal vignettes into the lives of real people caressing real land producing real food and fiber touches all of us profoundly with the peaks and valleys of farming.  Better than fiction, these stories articulate reality; the reality of how, why, and where food and fiber enter our plates and homes.  Knowing something about our intersection with food and fiber is a starting point for earth stewardship.  Let the lessons begin."
Joel Salatin, Polyface Farm
* * *
Summary
When we talk about the true cost of farming, it can be difficult to identify and quantify the costs that industrialised agriculture is externalising to the environment, animals, workers, and the public's health and well being. This book posits that if there was full transparency across the food system, it would not look as it does today.
Farming Democracy shows the true cost and labour of farming. We've brought together diverse small-scale farms to tell their stories – how they produce their food, where and how it's processed and value added, how they distribute their produce and connect eaters to the place in which it is grown, who they employ and under what conditions. Each farm has opened their books to share their true revenue and costs to shine a light onto these realities as never before.
This important book shares family farms' stories, which we hope will inspire more people into farming, and offer insights into what the opportunities and challenges are in running a small-scale regenerative farm in Australia for those already on the land or wanting to know more about alternatives to the industrial food system. More, we hope it will inspire the food sovereignty movement as we work toward a future in which everyone has access to nutritious and culturally-appropriate food grown and distributed in ethical and ecological ways, and can enact their right to democratically determine your own food and agriculture systems.